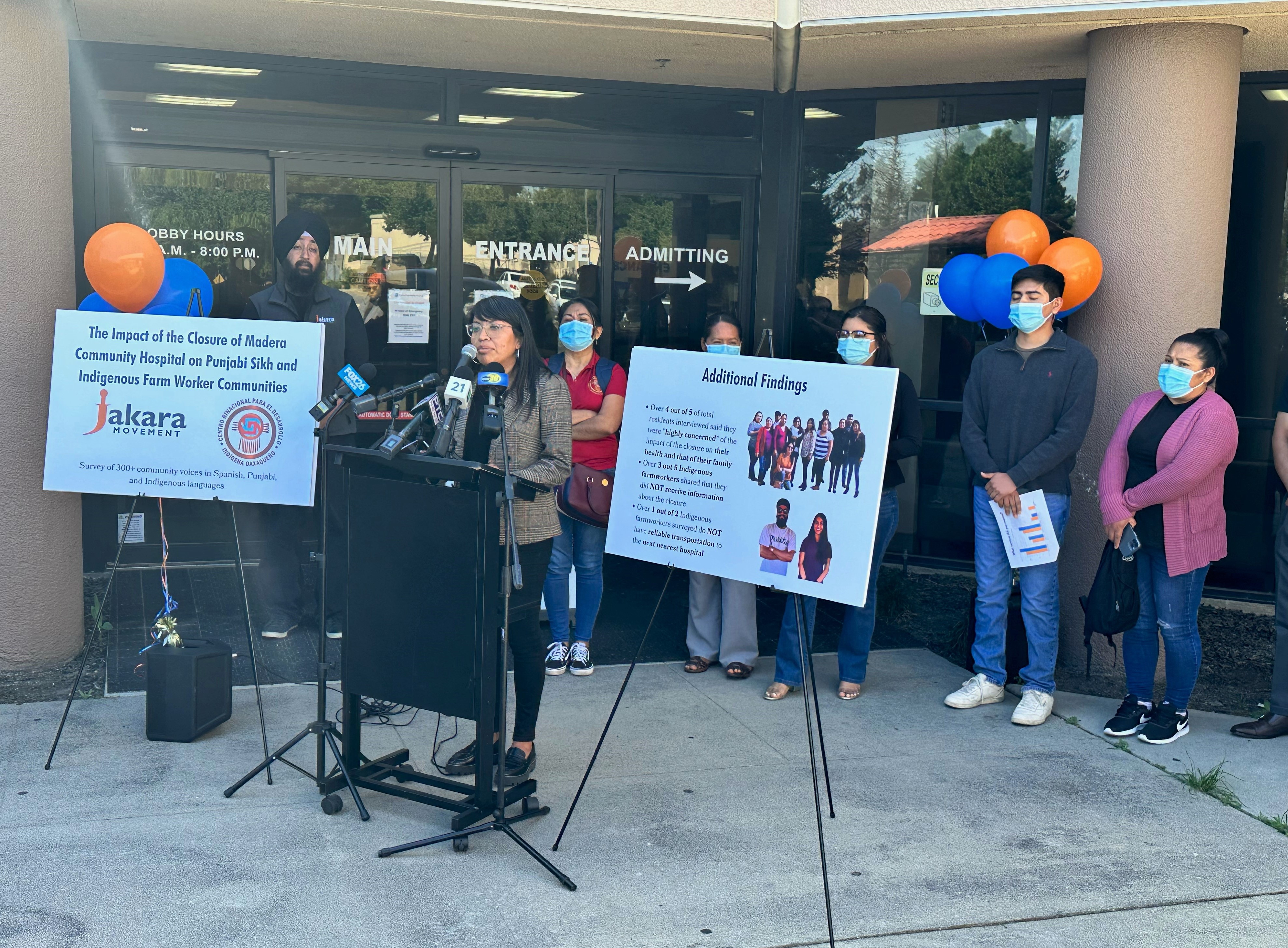 MADERA – The Jakara Movement (serving Punjabi Sikh communities) and Centro Binacional Para el Desarrollo Indigeno Oaxequeño (CBDIO – Binantional Center for the Development of Oaxacan Indigenous Communities) have collaborated to create a study on the effects of the closure of Madera Community Hospital on the Punjabi Sikh and Indigenous farmworker communities.
This survey has found that over 60% of the 300+ community members surveyed in both groups will have to find outside community medical centers to receive treatment in, with over 15% being unsure of where to go. Additionally, over 60% of indigenous farmworkers surveyed share that they were not informed about the hospital's closure, and 52% do not have a reliable mode of transportation to the nearest hospital.
The survey also contained testimony from several affected community members: "I was greatly affected by the closure of the Hospital as now I have to travel 40 minutes to receive treatment in an emergency room, and also I have to miss a day of work when I have a health emergency."
The survey revealed that 147 out of 347 survey participants will now go to Community Regional Medical Center in Fresno to get the treatment they previously received at Madera Community Hospital. Many survey participants reported extra-long wait times at outside community hospitals, and a lack of public transportation to even travel to these hospitals.
"The survey confirms our worst fears about the impacts of Madera Community Hospital's closure, our most vulnerable community members are suffering," said Assemblywoman Soria.  "Re-opening Madera Community Hospital has been and will continue to be my top priority this year."
AB 412 by Assemblywoman Soria creates the Distressed Hospital Loan Program to provide immediate financial assistance to help Madera Community Hospital re-open.  AB 412 is now contained in AB 112 which will expedite the process of the Distressed Hospital Loan Program becoming law.  AB 112 makes available up to $150 million in state support to help re-open Madera Community Hospital.  AB 112 passed the Legislature unanimously and is on the Governor's desk waiting for a signature.
Read more at: https://www.fresnobee.com/news/local/article275064536.html#storylink=cpy
For questions or comments, please Contact Assemblywoman Soria.