CA Latino Caucus Foundation Announces 2023 Statewide Scholarship Program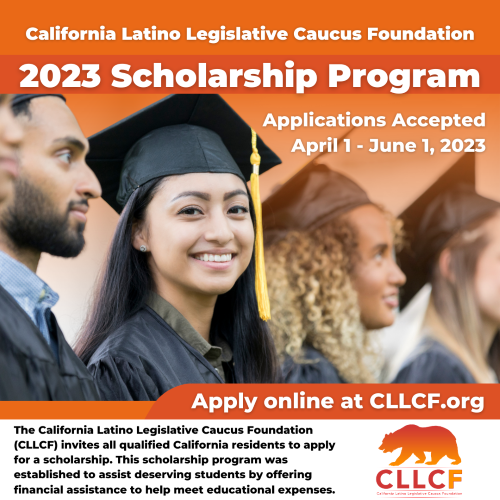 MERCED – Assemblywoman Esmeralda Soria is pleased to announce that the 2023 California Latino Legislative Caucus Foundation Scholarship Program will begin accepting online applications on April 1, 2023. Each student awarded a scholarship shall receive $5,000.  The deadline to submit an application is June 1, 2023.
"I strongly encourage all students in Assembly District 27 to apply," stated Assemblywoman Soria of the California Latino Legislative Caucus. "As a first generation college graduate, I know the financial challenges many students face in deciding to attend college. This $5,000 scholarship will help make college more affordable and accessible so more students can decide to pursue a higher education."
Assemblywoman Soria invites eligible students statewide to submit applications for financial assistance to meet educational expenses.  Program parameters, applications and FAQ are currently available on the Foundation website at: www.cllcf.org.
In order to be eligible for scholarship consideration students must meet the following requirements:
Be a full time student in good academic standing at an accredited college or university, OR

Be a graduating high school senior with written proof of acceptance at an accredited institution of higher learning.

Have a minimum Grade Point Average (GPA) of 2.5.

Submit a completed online application with all required supplementary documents by the application deadline.
Following the submission deadline, applications will be reviewed and scholarship winners will be announced on June 30, 2023.